Winter is a testing time for mobility shops. No longer able to rely on scooter sales, dealers must call on the kind of stock that will have sat at the back of the showroom in recent months.
But to make a real success of the winter trading months, dealers can invest in new, exciting and useful items to draw customers in.
Read on to see a showcase of a host of innovative products designed to keep your till ringing over the winter. Classic Canes' autumn and winter selection offers dealers with a great way of capitalise on festive spending while a number of other walking aids can help to keep end-users active and safe in harsher weather.
Story continues below
Advertisement
On top of the latest winter-proof scooters, the most comfortable rise and recliners and innovative furniture accessories, AMP's Winter Buyer's Guide includes a number of less traditional items such as travel hoists, which are ideal for those customers embarking on a festive getaway.
Far from battening down the hatches, dealers have an opportunity to make their showrooms exciting places for customers to come and visit and investing in new stock now could lead to a flurry or orders in the coming weeks as end-users hurry to prepare themselves for the cold.
If you want to get hands-on with any of the following kit, many of the manufacturers featured will be exhibiting at The OT Show next month.
140 Travel Hoist
Brand/supplier: Ardoo
Wheelchair users can now explore new destinations with the Ardoo Travel Hoist. The Ardoo 140 hoist weighs only 23kg and claims to be the lightest, folding multiuse hoist available.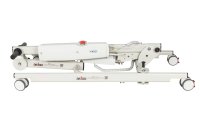 Its front lifting boom facilitates safe and precise movement allowing placement in the front/rear seats of a vehicle and its small footprint allows use in restricted spaces. It folds easily to fit in the boot of a car and can be taken in the hold of an aircraft. The hoist can also be adapted for use as a stand aid – a simple hook-on footplate makes the conversion from hoist to stand aid in seconds. It can be operated safely by one carer and no tools are required to fold it or to convert it to the stand aid.
AW19 walking sticks
Brand/supplier: Classic Canes
Walking stick specialist Classic Canes has a new range of adjustable and folding canes in whimsical patterns for autumn/winter 2019. Based on popular interests and fashionable motifs of the moment, patterns include amusing cats, cute forest creatures, flamingos, skulls and bats.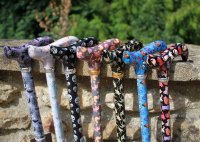 Managing director Charlotte Gillan says: "Our stockists are always on the lookout for exclusive products that can't be found in all their competitors' shops. Fun patterns on walking sticks are a great way to elevate canes from mere mobility aids into fashion statements. They also make great Christmas gifts and customers can be encouraged to form a collection to complement different outfits."
All-terrain Cane
Brand/supplier: Drive DeVilbiss Healthcare
The All-Terrain Cane was developed to help users walk safely and confidently on several surfaces and in most weather conditions. This walking aid was designed to provide excellent traction and stability. It features a retractable tip with four stainless steel spikes to provide a sturdy grip on slippery surfaces.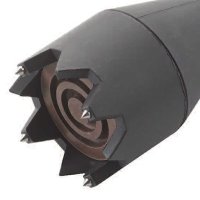 The handle height is adjustable from 30 inches to 39 inches to find the correct height for the user and it features a foam handle for comfort and an offset handle for increased stability. This walking aid helps provide confidence and peace of mind for the user to get out and about for a little exercise or a trip to the shops, even when the conditions are not ideal.
Cosi Chair range
Brand/supplier: Electric Mobility
Electric Mobility has responded to market trends with two brand new fabrics for the Cosi Chair range to help dealer partners make the most of furniture sales in the approaching colder months. The two debutant fabrics, Lille Cedar and Lille Charcoal, are now available for next day delivery on the Hamble and the Heddon riser recliners and now, with new contemporary colours, have been launched on the brand new Valency three-motor with the fully adjustable powered headrest too. The UK supplier describes the fabrics as chic, stylish and soft.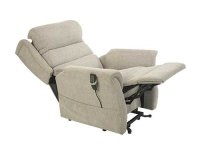 The Hamble, Heddon and Valency chairs are designed to be good value-for-money pieces of furniture and will continue to be a dealer favourite because of their reliability, according to the manufacturer.
Bathroom aids
Brand/supplier: Etac R82
During the winter months, the reliability of equipment is even more essential, so Etac has placed five-year warranties on products and introduced designs that support robust infection control. The Etac Relax Shower Seat, Etac Rex wall mounted toilet arm support and Clean Shower Commode Chair are popular choices for safer bathroom enablement, according to the supplier.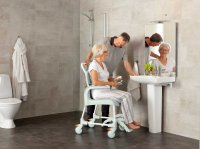 The Etac Relax is a wall-mounted minimalist modern seat that folds away for maximum convenience and Etac Rex folding toilet arms provide advanced support in an elegant design. The Clean Shower Commode Chair provides practicality and manoeuvrability so carers can deliver enhanced personal care.
The Easy 1
Brand/supplier: Flexel UK Ltd
A lightweight chair with a carry weight (wheels and footrests removed) of around 10kg, the Easy 1 is available in self-propelling or transit versions. For users up to 125kg these chairs are both strong yet lightweight. They have been tested to British and International Standards ISO 7176-19, which includes successfully passing crash testing making them approved for use in transport.
These comfortable chairs have a tension adjustable padded back, flip-up arm rests for easy transferring and attendant brakes as standard. The quick release wheels (self-propel only), folding back and removable footrests make storage and transport simple, while the lap belt and calf strap adds to their comfort and safety.
Ice Boot
Brand/supplier: Flexyfoot
With winter looming it is wise to keep an eye on products that keep users safe, active and mobile should the conditions turn Arctic. Many stick and crutch users find themselves housebound when snow starts to fall or ice sweeps in. Maintaining an active lifestyle, even when the temperature plummets will help keep them fit.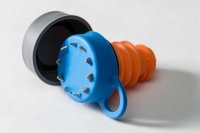 The Ice Boot is a simple 'pop-on' accessory that fits onto any Flexyfoot ferrule and can easily be removed when stepping back out of the cold. It easily fits in a pocket or bag so users are always ready, whatever the weather. Prices have recently been reduced and Flexyfoot urges dealers to give their customers the best this winter.
Soxon
Brand/supplier: The Helping Hand Company Ltd
The Soxon is consistently a top-seller for The Helping Hand Company, especially throughout the colder months. If end-users are struggling to walk, reach, or bend, there is a good chance they will be struggling to put their socks on too.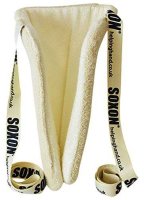 The supplier claims to have "the sock aid that actually works", making it easy to slip on socks, stockings or support wear. Super stretchy, extra roomy and made from hypo-allergenic bamboo, the Soxon is luxuriously soft and gentle. Complete with extra-long loop tape, it can make dressing with one had easy. There is no need for customers to struggle. Warm socks, long socks and tights slide on with ease. The aid is a favourite of OTs and customers alike, says the supplier.
TDX SP2 range
Brand/supplier: Invacare
Invacare's TDX SP2 centre-wheel design features sleek, compact bases and distinctive aesthetics suitable for both indoor and outdoor environments. Its true centre wheel drive means it will turn on the spot without deviation, easily manoeuvring into and out of those confined spaces. The range uses LiNX technology offering basic drive only functionality to the latest touchscreen remotes with Bluetooth connectivity and the MyLiNX app.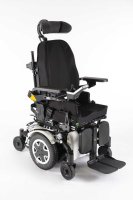 With LiNX technology, the system's intelligence interprets, learns and adapts to driving habits for an optimised and well-balanced drive. It gives greater hold on slopes with no rollback, and improved drive over soft surfaces, like thick carpets and rugs with its low speed and creep control.
Ergo Lite 2
Brand/supplier: Karma Mobility
The Ergo Lite 2 is one of the lightest manual wheelchairs available from Karma Mobility. Weighing from just 10.4kg and only 6.4kg once the wheels and footrest hangers have been removed, the Ergo Lite 2 features a foldable backrest and frame and removable swing in/out footrest hangers. This ensures that it can be easily folded down to a manageable size for transportation and storage when not being used.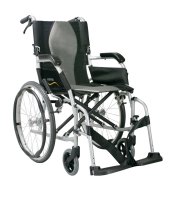 The Ergo Lite 2 has the strong build quality synonymous with every wheelchair and powerchair from Karma Mobility and features the S-Ergo seating system, which promotes good posture, assists pressure relief and helps stop the user sliding down the seat. Available in two widths, the Ergo Lite 2 has a maximum user weight of 100kg.
MicroCell Companion
Brand/supplier: MediSmart Technologies
The MicroCell Compaion is a new ultra-thin mattress designed to fit over any rise and recliner chair with the aim of reducing the risk of pressure ulcers in people who use chairs as beds for long periods of time. Ideal for winter, the product comprises a patented micro cell slim alternating air mattress with an easy-to-use pump to retro fit any recliner chair.
MediSmart's sales director and chair of the BHTA's beds and support surfaces section, David Beavis, says the product has received a lot of interest when it was shown to clinicians and therapist. The patented MicroCell technology has an ultra-thin design of 70 alternating cells and can be manufactured to fit any reclining chair.
Atlas 4 Hoist
Brand/supplier: Monarch Mobility
Car boot scooters have enjoyed an explosion of interest in recent years. The ability to transport a scooter is highly valued among end-users, who are increasingly wanting to take their equipment with them when they travel. Getting a scooter into a car boot can be a challenge for anyone, especially the elderly or less mobile person and when it is cold.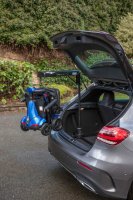 The Atlas4 hoist by Monarch Mobility is designed to lift most folding scooters and fits in a range of cars. The Atlas4 can lift up to 40kg, is portable and easy to assemble with no drilling or screwing down. Its features include automatic operation, swinging boom, folding and removable boom with a variety of power options.
eTrike
Brand/supplier: Mountain Trike
The eTrike is an electric power assist version of the all-terrain Mountain Trike wheelchair. It will appeal to people who find they require a bit of assistance when traveling off-road or for others who will use the extra power to tackle even more challenging terrain.
The 250w hub motor, powered by a 36v 12Ah Li-ion battery, has an excellent range and is powerful enough to cope with rough surfaces and hill climbs alike. It offers flexible riding as it allows the rider to combine manual power with electric assist as and when required. There is also an eKit available which can be fitted to any existing Mountain Trike.
The Hudson range
Brand/supplier: Pride Mobility
The Hudson Range is expanding and the latest additions offer renewed style and comfort designed to suit any living room environment. Comprised of the Buxton, Hereford, Monmouth and Dorchester, each chair in the range as standard, features a powered headrest, powered lumbar support and dual motor infinite seating positions alongside a choice of over 90 different fabrics.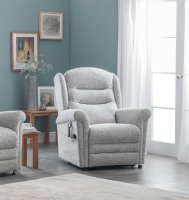 Customers can personalise their chair further by choosing between a waterfall back, a lateral back and a letterbox back depending on their comfort and preferences. To ensure maximum comfort each chair is available in four different sizes, each of which have been hand padded to ensure additional comfort and support.
Heat pad
Brand/supplier: Repose Furniture
Repose Furniture offers a range of accessories alongside its range of seating solutions including a heat pad system to help customers keep warm in the winter. The system comes with two heat modules, one of which is fitted into the seat area of the chair while the other comes as a loose cushion heat pad that the user can position for their own comfort – behind their back, on their lap or to the side.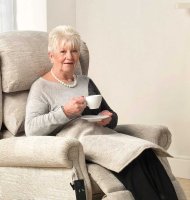 The heat pad offers flexibility to the user as it can be unplugged and stored with the handset in the chair side pocket when not in use. Both the pads are controlled independently with a simple-to-use handset, which has two temperature settings.
Cabin Car Mk2 Plus
Brand/supplier: Scooterpac
With the Cabin Car Mk2 Plus, scooter sales do not have to be off limits for dealers over winter. Two years in the making, the covered Cabin Car represents a high-ticket item to sell in a season that is traditionally dominated by sales of smaller living aids.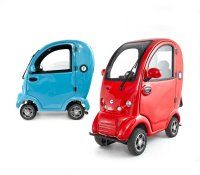 With the Cabin Car Mk2 Plus' luxury captain seat, alloy wheels and windscreen washer and wipers, it is suitable for anyone transitioning from car to scooter or looking for an upgrade. There are now over 20 optional extras available including heated seats, lithium ion batteries and wireless handsfree system. While door kick plates, follow-me-home lights and interior lighting are all now featured as standard. The luxury mobility scooter is designed and built in the UK.
Featherweight portable ramp
Brand/supplier: Secret Access
People with reduced mobility who may be reliant on a wheelchair will often plan their trips far earlier than most. As winter approaches this can of course include arranging to visit family and friends over the festive period.
The Featherweight portable access ramp from Secret Access is available with a width of 75cm and four lengths ranging from 75cm to 200cm. Weighing between 2.6kg and 6.8kg, this ultra-lightweight, non-slip ramp features a simple open and close mechanism and is easy to transport and store, making it a suitable travel companion for any wheelchair user.
StairSteady handrail
Brand/supplier: StairSteady
The StairSteady helps users to keep their independence on their stairs while staying safe. It is a high quality fixed handrail and a sliding supporting handle that moves freely when pushed but locks in place when weight is applied. It acts as firm support for either climbing or coming down the stairs.
The handle is sturdy and secure and lets users have both hands in front of them as they climb or descend the stairs at their own pace. Once they reach the top or bottom the handle folds neatly away letting them stay independent without having to compromise on appearance. The StairSteady is useful in lots of different situations and can be used by both young and old as well as by multiple users.
Breeze S4
Brand/supplier: TGA Mobility
Inclement weather can affect the pleasure of mobility outdoors during the winter. So TGA Mobility believes stocking the Breeze S4 with hard top canopy is a must for all dealers. This proven scooter is renowned for its performance on and off-road and is available with an optional rigid canopy.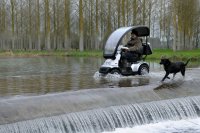 Unlike vinyl canopies, the TGA hard top canopy is highly durable and provides exceptional visibility. It can be supplied or retro fitted with optional vinyl sides for added weather protection. The solid canopy is the ideal accessory to deliver the ultimate all-weather driving experience. A firm favourite with dealers, the Breeze S4 is one of just a few scooters which has all-year round appeal.
Olympos rollator
Brand/supplier: Topro
Branded 'the rollator for all seasons', the Olympos has been designed to enable the user to tackle terrain unsuitable for most rollators due to its larger wheels and option of off-road wheels, yet is equally at home in a domestic environment.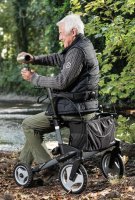 The recently developed Topro IBS (Interior Braking System) enables the user to change between several types of wheels such as standard wheels, off-road wheels and studded tires if required in more wintry conditions. As with every model in the range, the Olympos can be modified for one-sided brake use and is available in sizes small and medium with a maximum user weight of 150kg and user height of 170cm and 195cm, respectively.